This guide will assist you with the level of customisation available for your chosen suite. Elements that are customisable includes colour palette, handwritten calligraphy, typefaces and embellishments. Don't forget to read our terms and conditions before placing an order.
The Ordering Process
2. Place your order

Once you have chosen your suite and customisable elements, you are ready to place an order! Payment is required to confirm your order through our webstore. A link with a Questionnaire will be sent shortly after.

3. Customise your suite

You can find the customisable elements for each suite in the Semi-Custom Ordering Guide. Most elements will be asked in the questionnaire after an order is placed. The questionnaire must be completed to move to the next step.

4. Mockups and Proofs

Based on your responses on the questionnaire, a digital mock up and proof will be sent to you for your review and approval within 5-7 working days. One (1) refinement is allowed free of charge. Any additional refinements thereafter are chargeable.

5. Production & Delivery

Once the digital mock up and proof are approved and shipping costs received, we will proceed with production. At this stage, any amendments can no longer be accommodated.
The Timeline
Summary of important dates & timeline

I. Your wedding date should not be less than 6 months away

II. Invitations are typically sent 2-3 months before your wedding date.

III. We required at least 1-2 months for production (+ shipping)

IV. Your stationery order should be placed no later than 5 months before your wedding date

V. If Save The Dates are required, they should be ordered 12 months before wedding date

VI. Always account for extra working days/weeks for potential shipping delays, supply chain shortages, additional production time for embellishments etc.

VII. It's always better to get in touch with stationers or book stationers earlier.
How do I figure out when I need to send my invitations out?

Your formal invitations are typically sent 2 to 3 months before your wedding date.

If you have guests travelling from out-of-state, overseas or are having a destination wedding, invitations should be sent at least 6 months before your wedding. This is to allow your guests enough time to plan for annual leave, travel itineraries, accommodation, etc. In cases like this, we'll accept weddings that are 12 months away.
When is the latest I can order my invitations?

We accept invitation orders for weddings that are at least 6 months away. This allows us enough time to obtain your approval and head into production of your order.

Depending on our production schedule, we may be able to accept rush orders, however it will incur a rush fee if your order is accepted. Please get in touch for availability.
How do I figure out when my guests should RSVP by?

3 to 4 weeks before your wedding date is a good timeline for your guests to RSVP
How long does it take you to complete my order?

Our production timeline is 1-2 months (+shipping). Please take note this timeline starts once digital mock-up and proofs are approved by the client.

Clients are expected to complete the Semi-Custom Collection questionnaire within two (02) days of placing an order.

Your digital mock-ups & proofs are sent within 5-7 working days after the receipt of the questionnaire responses.

Another 5-7 working days is buffered for any amendments required and final approval of the mock-ups & proofs.

Always allow additional days/weeks if your order includes embellishments.
Customise your suite
View the list of customisable elements for your Semi-Custom Collection below. Don't forget that most elements will be selectable in the Semi-Custom Collection Questionnaire after your order is made.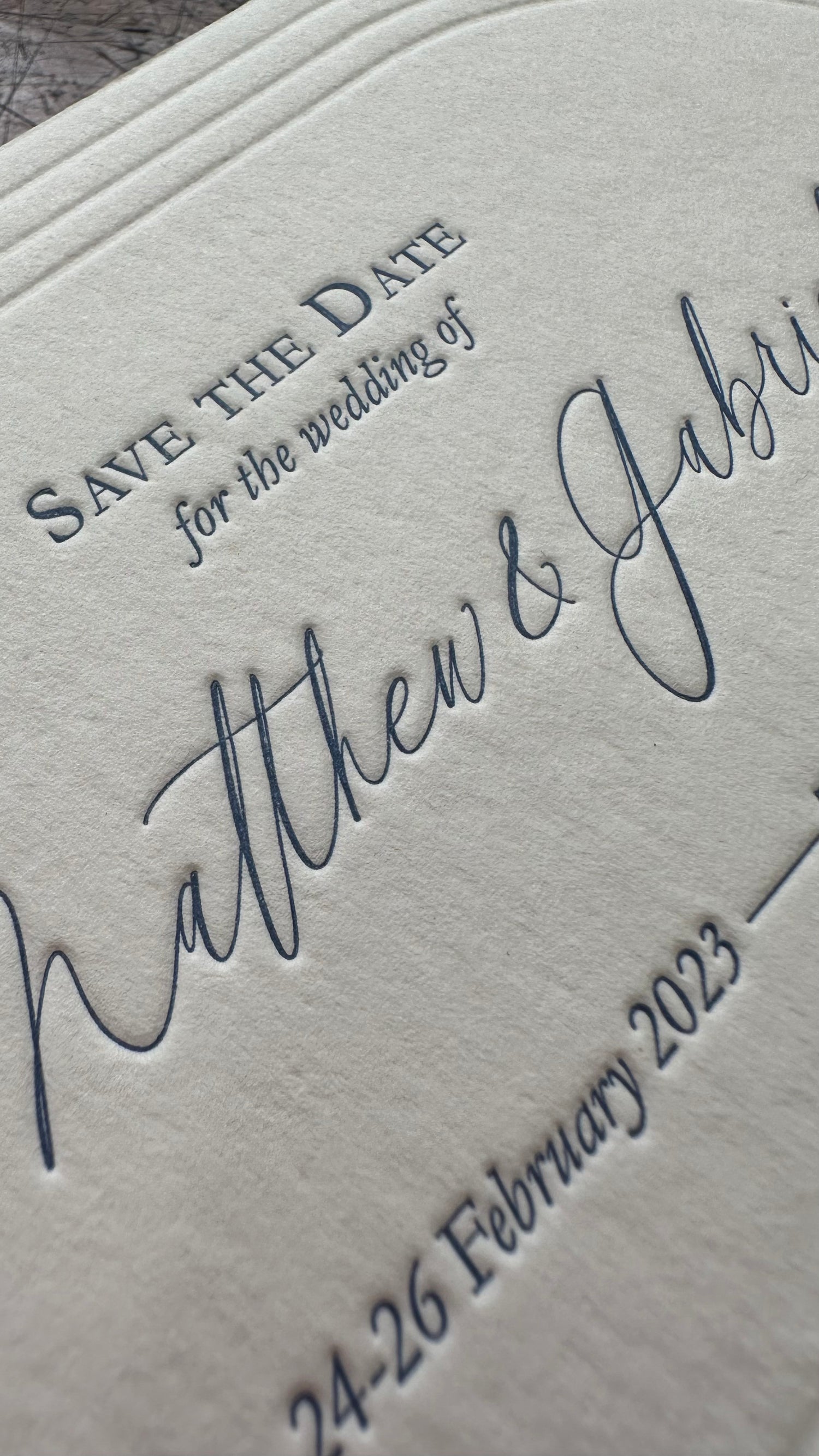 Letterpress Printing
All suites in the Semi-Custom Collection are designed to be letterpress printed*.
Letterpress is a labour and love intensive print method used in the 15th century until it became obsolete due to the advancements of technology in the 20th century. It is an aged-old art of printing whereby a relief print is made using an antique printing press.
Little Red does not offer any other print methods at this time.
*Embellishments like envelope liner, envelope printing, vellum wrap, etc may be outsourced for offset printing.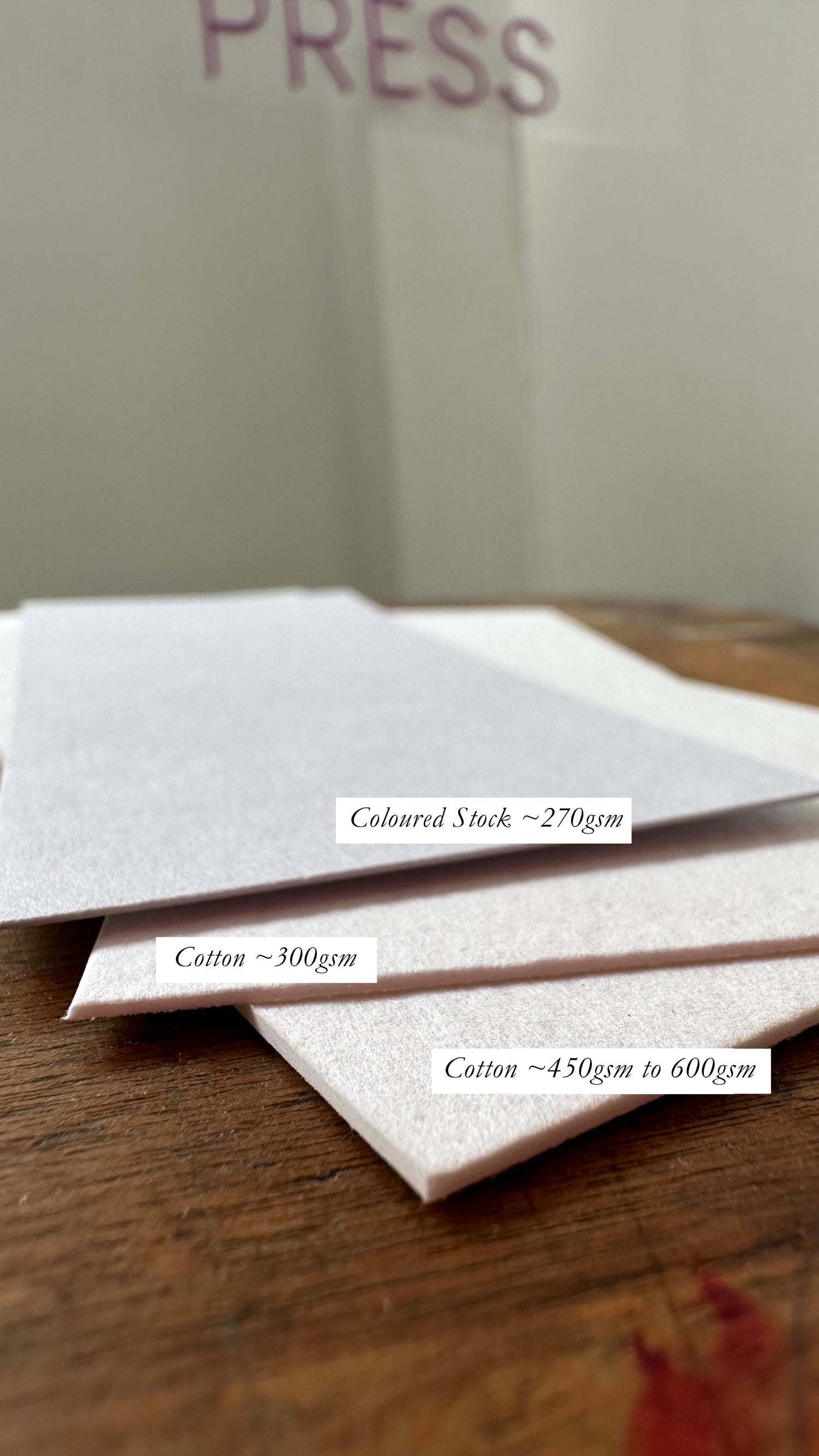 Paper
To bring out the true beauty of letterpress printing, cotton paper at a minimum of 300gsm is highly recommended. We have anticipated that a little pop of colour may be needed so we have a beautiful range of coloured stock available to choose from.
Handmade paper is also an option however due to the nature of how it is made and its limited availability, we do not keep stock in-house and orders as per needed. It is advised to allow additional weeks for production, if your order includes handmade paper.
Couple's Names
With any suite of the Semi-Custom Collection, you may choose to have the couple's names in calligraphy instead of the displayed typeface. There are 4 options available - (1) classic; (2) signature; (3) modern and (4) playful.
Classic + Signature: These two options are handwritten using a pointed-pen, then digitized and adjusted (if needed) for print.
Modern + Playful: These two options are not handwritten and are purchased typefaces.
Classic

Our take on traditional copperplate with a taste of rule breaking

Signature

Our signature handwritten calligraphy style

Playful

Carefree and light-hearted typeface
Typeface
The typefaces used in each suite are best suited for its unique design and have been thoroughly thought through to bring out the beauty of letterpress. We understand it may not be your preference so we offer a few additional options you can choose from to customise your paper goods further.
San Serif #1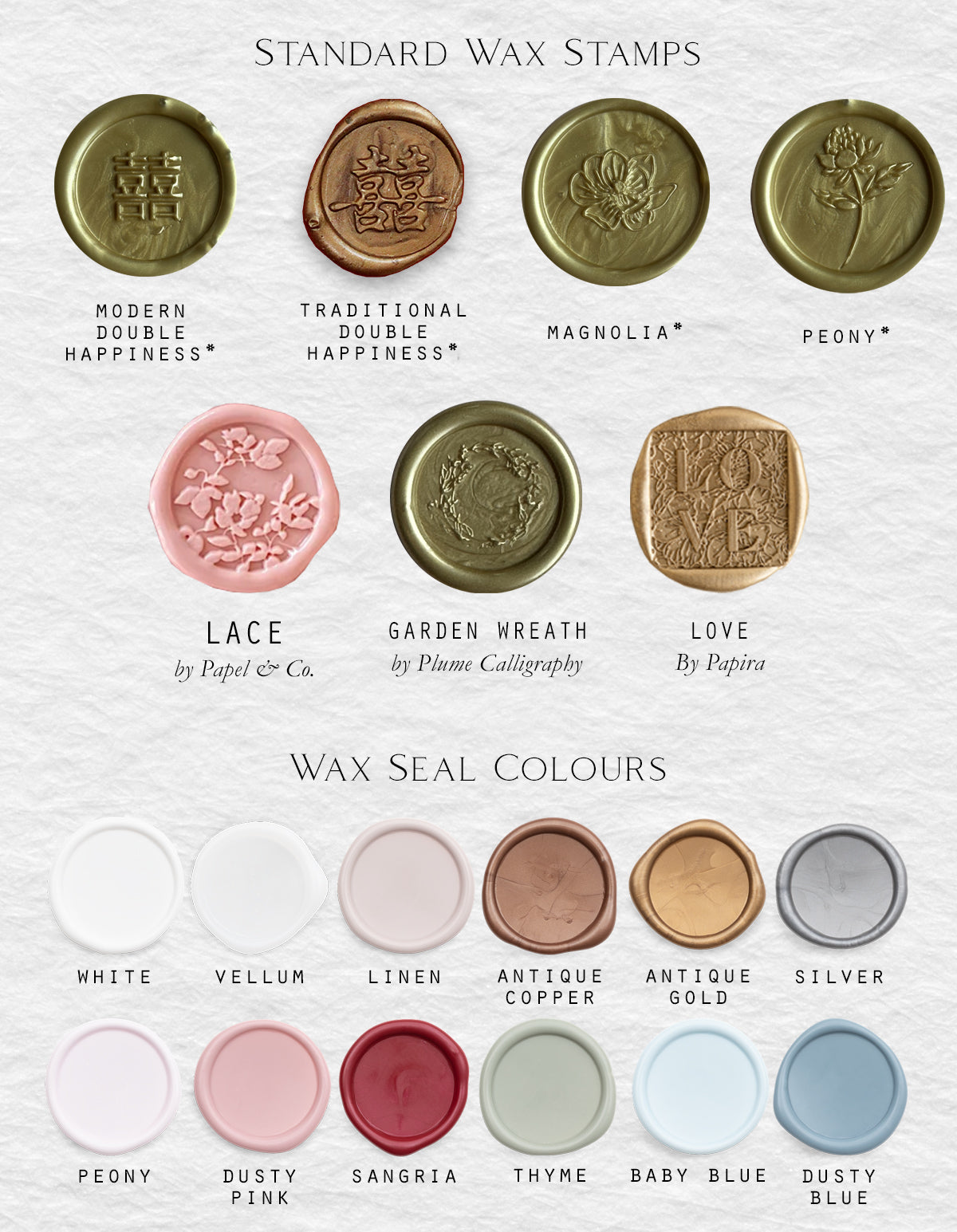 Wax Stamps & Wax Seals
We have curated a selection of standard wax stamps and 12 wax seal colours that can be used to embellish your paper goods.
Self-adhesive wax seals in some of our standard designs (marked with *) can be added to your cart together with your semi-custom collection order.
Custom wax stamp and wax seal colour can also be requested if what you're looking for isn't available in the standard list. Please note that any custom work adds at the minimum two (2) weeks to your production timeframe.
Self-Adhesive Wax Seals
Embellishments
These embellishments are optional add-ons and are paid on-top of the fee paid for your chosen suite. You may select them in the Semi-Custom Collection Questionnaire then details, pricing & payment are discussed after that.
Custom Monogram

Create a custom monogram of your first initials that can be used throughout your events, from backdrop to signages to wax seals.

Envelope Liner

We tend to gravitate towards vintage art pieces for liners but if you have a high-res image, in the right colour palette, let's line 'em envelopes!

Ribbon / Twine

Sometimes a simple ribbon / twine can tie it all together. Consider adding it to your suite for the extra wow-factor.
The Collection
Regular price

From BND$375.00

Regular price

Sale price

From BND$375.00

Unit price

per