Semi-Custom Collection
Let the beauty of the fine art of letterpress take center stage. Don't forget to read the Semi-Custom Ordering Guide for details on customisable elements.
For an invitation that speaks of elegance and refinement, look no further than Ceylon. This semi-custom letterpress wedding invitation is crafted using the finest handmade paper and a touch of gold leaf gilding for a regal finish. The deckled edges add a delicate charm, ensuring that your guests are in for an unforgettable experience.
This Semi-Custom Wedding Invitation a made to order product and will ship within five (5) to eight (8) weeks after digital mock-ups & proofs are approved.

Please read product details below before placing an order.
Additional Info

We understand that you may not require a full suite or even the same quantities for each card. We've listed each card under "Card Required" so that you can pick & choose what you need and the quantity you need. 

If you require quantities more than 500, pleasecontact usfor a quote.
Pricing

The price shown are based on the size & material used in the display suite. Please note that pricing may change based on your customisation and Little Red reserves the right to request for additional payment in line with your selections.
Embellishments

Embellishments such as envelope liner, wax seal, ribbon etc shown in the product images are not included in the pricing. These embellishments will incur additional charges which will be discussed via email based on your response on the questionnaire.
Card Details

1. Reception / Sanding (1 language only):This is your main invitation in one (1) language only.

2. Reception / Sanding (2 languages):A main invitation option should you need two (2) languages for your guests.

3. Information / Details card:This can be used for your day of events, important information like travel, accommodation & gifting.

4. Other ceremony card: This can be used for church ceremony OR tea ceremony OR nikah OR wakil card. If you require more than one (1) of these ceremony card, please add them separately into your cart.

5. RSVP +/- Envelope: This is your response card included in your invitation suite.

6. Save The Date + Envelope:This is your Save The Date sent a months before your formal invitation.
Product Measurements

CEYLON
Reception / Sanding: 5" x 7"
Events / Details: 4.1" x 5.6"
Other ceremony cards: 4.6" x 6.7"
RSVP: 3.5" x 4 7/8"
Save The Date: 4.1" x 5.6"

Shipping

Shipping fees are not included in this price. Payment for shipping will required when your order goes into production.

Local delivery & international shipping is available. International orders are shipped via international courier with signature required upon delivery.

Little Red holds no further responsibility after the product has been handed over to the courier.
Return policy

This product is strictly non-refundable and non-returnable as it is customised to a particular client.
View the Terms & Conditions of our Semi-Custom Collection
Regular price
BND$1,496.00
Regular price
Sale price
BND$1,496.00
Unit price
per
Sale
Sold out
By purchasing any Little Red Calligraphy & Letterpress' Semi-Custom Collection, you acknowledge and agree to all semi-custom collection terms and conditions of Little Red Calligraphy and Letterpress.
Share
View full details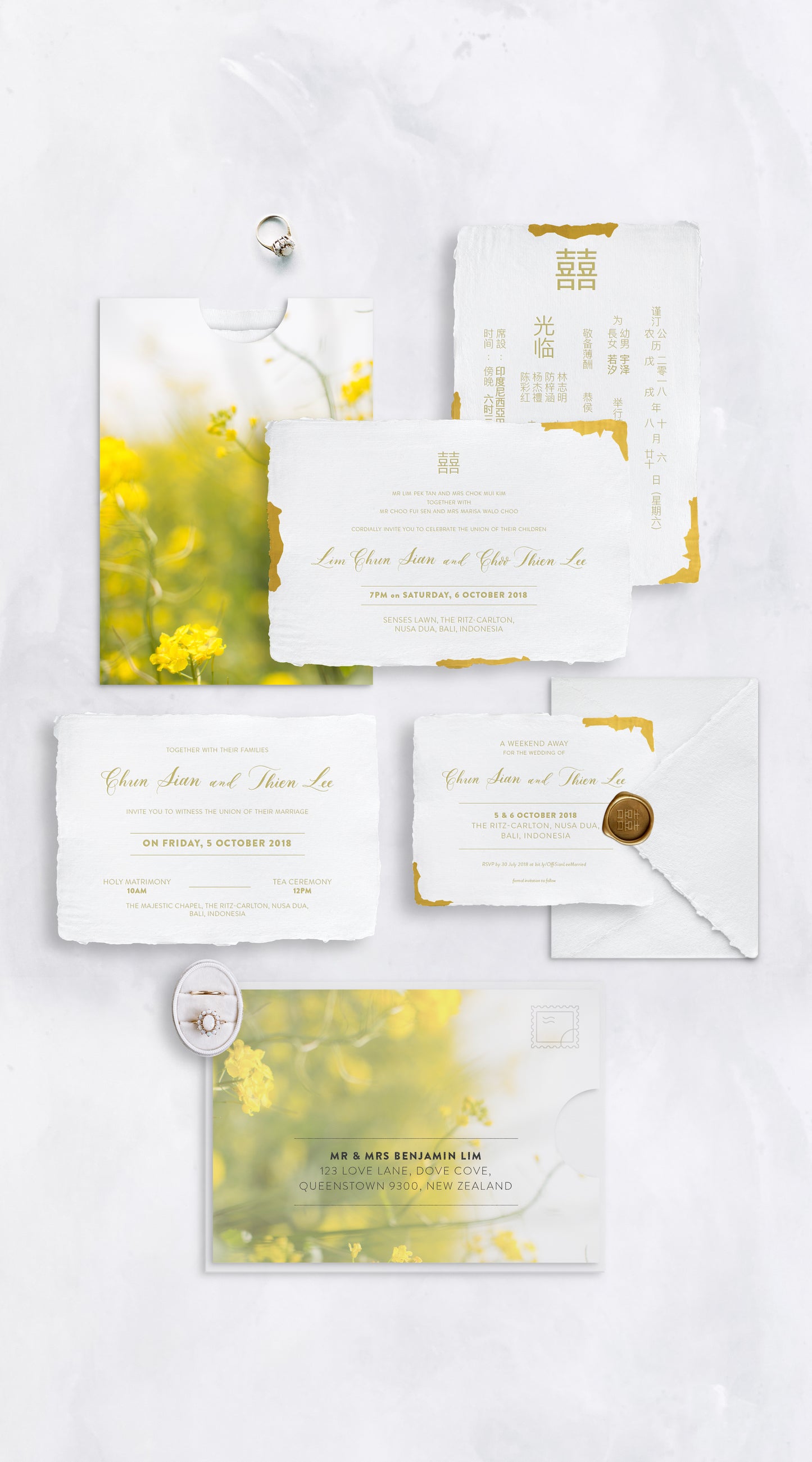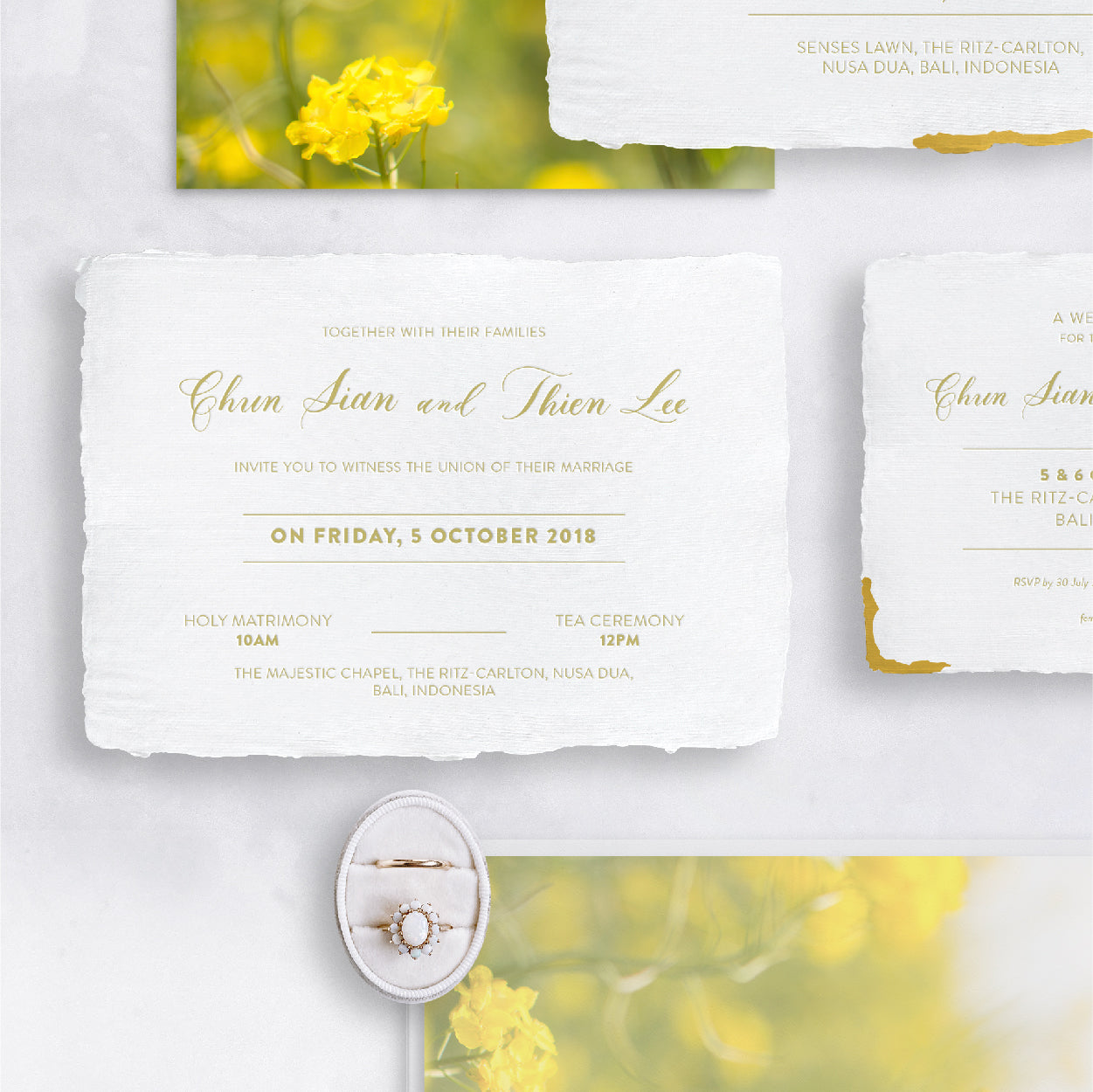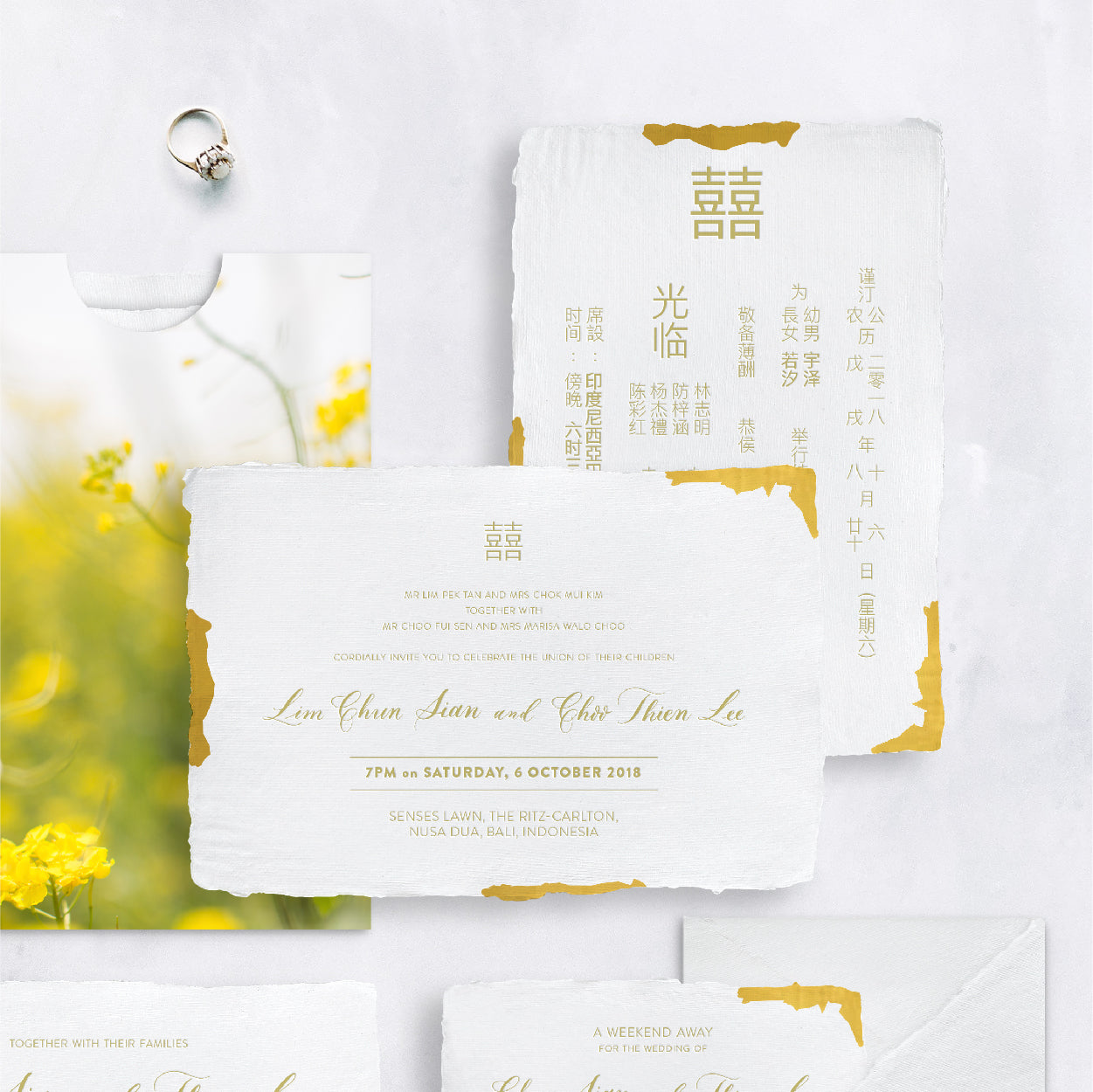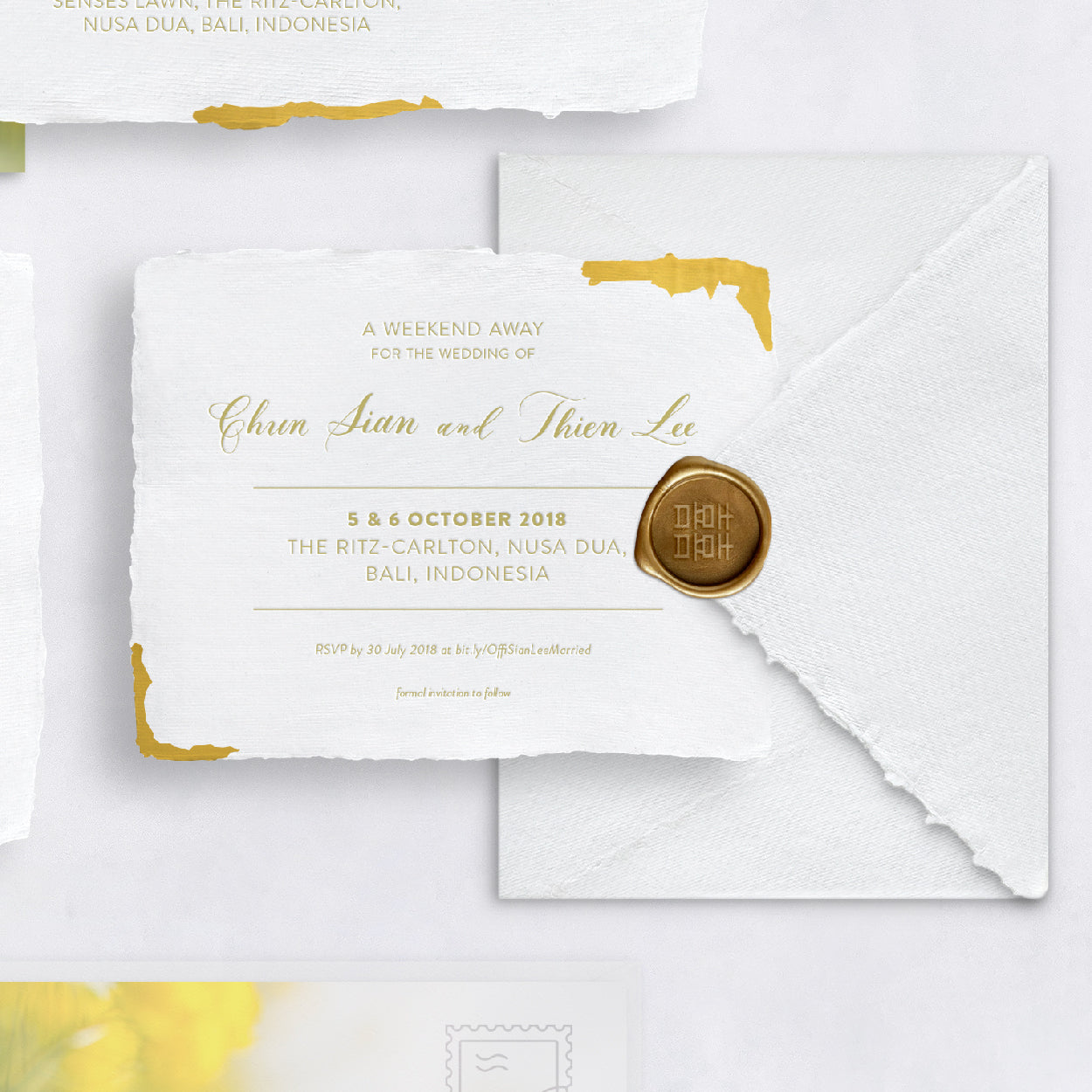 Semi-Custom Collection Terms and Conditions
By purchasing any Little Red Calligraphy & Letterpress' Semi-Custom Collection, you acknowledge and agree to all semi-custom collection terms and conditions below. Little Red Calligraphy & Letterpress reserves the right to amend any of these terms without prior notice.
To avoid any confusion in the details, the following definitions can be used interchangeably:
i. "Little Red Calligraphy & Letterpress" shall also be known as the "provider" or "we",
ii. the purchaser (or you) shall also be known as the "client" and;
iii. "Semi-Custom Collection" shall also be known as "The Collection".
1.0 Copyright
All designs and artwork in The Collection displayed on this site (www.littleredesigns.com), on Instagram (@littleredesigns) and anywhere on the world wide web are protected by copyright and are the sole property of Little Red Calligraphy & Letterpress unless otherwise indicated. This includes all designs, images and artworks used during the proofing process. It is illegal to take any of Little Red Calligraphy & Letterpress work; at any stage of the design process, for personal use or repurposed and/or redistributed for personal or commercial use without explicit written consent. 
2.0 Official Communication
The official communication method for both parties, the provider and the client, shall be via email. We understand that there may be instances when elements and/or details are discussed face-to-face, over an online meeting or via messaging apps including Instagram Direct Message, however any decisions made must be reiterated, communicated and acknowledged/confirmed with an email, either by the provider or the client.
3.0 Refunds & Cancellations
Due to the customisable nature of The Collection, we are not able to offer refunds, returns or cancellations after an order has been placed or in production or delivered.

Should a mistake be made on the provider's part, we will either reprint or provide a credit for the misprint. The provider holds no responsibility and are not liable for any additional reprinting costs if any and all error or misprint on the design, wordings and/or spelling are based on what has been approved and provided by the client. This responsibility falls completely on the client.
4.0 Variances
Please keep in mind that what you see on a screen may be slightly varied to the finished product in terms of materials and colours as this is highly dependent on your computer system and/or monitor. 
If your order includes calligraphy, please expect letterform variations as it is written by hand.
All products under The Collection are letterpress printed in-house. Letterpress inks are translucent and colours are hand-mixed using the Pantone formula. Slight variances in ink colour shall be expected due to the nature of letterpress inks, how it is mixed and printed on the products.
The provider endeavours to create pieces with minor variances, however, the client shall understand and accept that these variances will occur and are not avoidable.
5.0 Timeframes
5.1 Standard Timeframe
We advise getting in touch to discuss your paper goods and finalise your order as early as six (6) months before your wedding date. Of course, the earlier the better.
Our production timeline from the proof approvals to completion of production may take five (5) to eight (8) weeks + shipping. Allow for an additional one (1) or two (2) weeks if your order includes any add-ons.
5.2. Rush Orders
If your wedding date is less than six (6) months, please get in touch before placing an order. Depending on the production schedule at that time, we may or may not be able to accept your rush order. There will be a flat fee charged for rush orders in addition to your paper goods from BND200 to BND650.
The client understands that any delay in responses or approval will delay the final delivery date of your order. Little Red is not obligated to meet the original delivery date should there be client-related delays.
6.0 Pricing, Payments & Postage
All pricing is quoted in Brunei Dollars (BND) and do not include postage costs and optional embellishments. All costs are subject to change without further notice. On the rare occasion that a product is incorrectly priced, we reserve the right to either cancel the order or refund the order or request for additional payment.
Postage fees for international orders will be calculated after the digital proofs are approved. Payment for postage will need to be settled before your order goes into production. A delay in postage payment will push back the date of final delivery.
We accept Telegraphic Transfers (TT) with all related-costs borne by the client and BIBD Bank Transfers.
Telegraphic Transfers (TT) can be made to:
Account Name: Little Red Calligraphy and Letterpress
Bank Account Number: 00-001-01-004975-8
Bank Swift Code: BIBDBNBB
Bank Name: Bank Islam Brunei Darussalam
7.0 Shipping
All orders are dispatched from Brunei Darussalam. 
Once your orders are handed over to local delivery partners or international Courier, we are unable to provide any other information apart from what is displayed on the tracking link. We have no control over shipment timeframes and advise allowing a longer lead-time to anticipate for any potential delays during shipment. We are not responsible, nor may be held liable for any losses, damages or delays due to shipping.     
7.1 Local Orders
Local orders are delivered via local delivery partners. We shall make every effort to inform the client when the order is scheduled to be picked up for delivery by our delivery partners, however please understand that this may not always be possible. Our delivery partners may contact the client directly to make deliveries.  
7.2 International Orders
International orders are shipped via Courier with signature required on delivery. A tracking number or link shall be provided once your order is shipped. Please allow 7 to 30 working days for your order to reach you, depending on your location.
International orders may be liable for taxes or tariffs upon entry to your country, these are the responsibility of the client.
8.0 Proofing Process
It is extremely important that the client checks, double checks and in some cases triple checks the proofs provided. Clients are expected to check the following items but not limited to:
Design & layout
Wordings & spelling
Sizes & colours
Any errors should be highlighted to the provider at this stage. Once the proofs are approved by the client, no further changes can be made as the order goes into production. 
The client is entitled to one (1) round of amendments free of charge. Any amendments thereafter are charged at BND$250 per change.
9.0 Reordering Policy
We recommend including an extra 10% in quantity to accommodate for any last-minute guests, keepsakes for the couples & their families, for the photographer, etc.
The minimum quantity for reordering is 100 pieces/sets and adds an additional three (3) to six (6) weeks to the timeframe.
The Ordering Process
02. Place your order

Once you have chosen your suite and customisable elements, you are ready to place an order! Payment is required to confirm your order through our webstore. A link with a Questionnaire will be sent shortly after.
03. Customise your suite

You can find the customisable elements in the Semi-Custom Ordering Guide. Most elements will be asked in the questionnaire after an order is placed. The questionnaire must be completed to move to the next step.
04. Mock-ups and Proofs

Based on your responses on the questionnaire, a digital mock up and proof will be sent to you for your review and approval within 5-7 working days. One (1) refinement is allowed free of charge. Any additional refinements thereafter are chargeable.
05. Production & Delivery

Once the digital mock up and proof are approved and shipping costs received, we will proceed with production. At this stage, any amendments can no longer be accommodated.
You may also like
Regular price

From BND$375.00

Regular price

Sale price

From BND$375.00

Unit price

per